With the coronoavirus pandemic, one question that has crossed millions of people's minds is where to buy shelf stable meals!
You've likely noticed empty toilet paper shelves and food shelves in the stores, but don't fret yet.
Searching today, we found 9 options for buying toilet paper online and dozens of options for buying shelf stable food, snacks, and milk.
This non-perishable food buying guide will help you make sure your pantry is stocked for an emergency or quarantine situation.
WHERE TO BUY SHELF STABLE MEALS
Right now, you can still order shelf stable meals online from Amazon and Vitacost. Your food will be delivered to your door. Below are some favorite options in stock.
This post contains affiliate links. More info can be found here.
SHELF STABLE FOOD ON AMAZON
Many of these options are available with Free Prime Shipping if you're an Amazon Prime member. If not, Try Prime Free for 30 Days!
Some have a Subscribe & Save option for extra savings, which you can easily adjust or cancel at any time. Swagbucks is an easy way to earn free gift cards for Amazon too.
Amazon Fishpeople Wild Seafood Soup + Chowder Variety Pack
4 Pack of Ready to Eat, gluten free soups and chowders
Alder Smoked Wild Salmon Chowder, Wild Salmon Corn Chowder with Roasted Poblano Chiles, Wild Crab Bisque with Shrimp, and Razor Clam Chowder with Uncured Bacon
Microwave for 75 seconds, ready to eat meal in the pouch
---
Amazon Kitchen & Love Cauliflower Quick Meals
6 Ready to Eat, healthy shelf stable meals per box
Peruvian Vegetable Ceviche — Gluten Free, Vegan, Dairy Free, Non-GMO, Keto Friendly, High Fiber, Plant Based Protein
To prepare, mix two cups together and enjoy hot or cold
---
Amazon Hormel Compleats Meatloaf & Gravy with Mashed Potatoes
6 pack of meatloaf and mashed potatoes with gravy
Shelf stable, non-perishable, great emergency food
Microwave meal, mix well, then ready to eat
---
Amazon Palmini Low Carb Lasagna, Gluten Free
6 cans of Pasta Substitute made from the plant heart of palm
Low Carb Pasta option for Keto, Paleo, Sugar and Gluten Free diets
Pre-cooked, just rinse and add your favorite sauce
---
Amazon Simple Sensations Chicken Fajita Bowl
1 Shelf Stable Freeze-Dried Gluten Free Meal
Seasoned Chicken with Rice, Black Beans, Corn, Fire Roasted Peppers and Onions freeze-dried to lock in the nutrients and freshness
Add hot water to pouch or microwave in a bowl
---
Amazon Ready Meals, Gluten-Free Chicken Chow Mein
12 Ready to Eat, shelf-stable meals per case
Chicken Chow Mein — Gluten Free, Dairy Free, Egg Free
Prepare in microwave or boiling water
---
Amazon Tasty Bite Indian Entree Madras Lentils
6 Packs of Fully Cooked Indian Meals
Flavorful Madras Lentils made with Lentils, Red Beans & Spices in a Creamy Tomato Sauce
Microwaveable and ready to eat
---
Amazon Progresso Chicken Noodle Soup
12 Pack of Progresso Instant Soup
Chicken Cheese Enchilada flavor
Ready to eat,
---
Amazon Hormel Compleats Chicken Alfredo
Packs of 6, 18, or 24 Shelf Stable Microwave Meals
Oven-roasted Chicken and Penne Pasta in a Creamy Alfredo Sauce
Microwave ready to eat in 60 seconds
---
Amazon Armour Vienna Sausage
6 Cans of Shelf Stable Meat
Vienna Sausage made with chicken, beef, and pork — comes in Original, Barbecue, and Smoked flavors
Ready to eat right out of the can
---
Amazon StarKist Tuna Creations Tuna Salad
24 Packs of Ready to Eat Tuna Salad
Deli Style Tuna Salad — Soy and Gluten Free
Unopened pouches are shelf stable and do not need to be refrigerated
---
Amazon VELVEETA Microwavable Shells & Cheese Cups
8 Pack of Shelf Stable Shells and Cheese in a Cup
Made with Shells and Special Velveeta Cheese
Microwavable meal in a cup
---
Amazon Chef Boyardee Meals in a Cup
12 Pack of Shelf Stable Pasta Cups
Pasta shapes and meatballs in a creamy tomato sauce (several shapes and flavors to choose from)
Microwavable meal ready to serve in less than a minute
---
Amazon Canned Wild Salmon
---
12 Cans of Fresh Wild Caught Alaska Salmon
Nutritious omega 3s and high protein for a healthy meal like fish tacos, sandwiches, wraps or by itself
Ready to eat, shelf stable, doesn't even need to be drained
---
Amazon Quaker Instant Oatmeal
36 Packs of Instant Oatmeal (6 boxes with 6 packets each)
Protein Banana Nut and many other flavors to choose from
Oatmeal is a classic shelf-stable, inexpensive, quick and easy meal for anytime of the day
---
Amazon Krusteaz Just Add Water Pancake Mix
5 lb Buttermilk Pancake Mix for a shelf stable breakfast idea
Makes fluffy and yummy pancakes or waffles
Just add water to prepare this quick and easy meal
---
Amazon RXBar High Protein Bars
24 High Protein Snacks or Meal Replacement Bars with Simple ingredients
Variety Pack of flavors may include: Chocolate Sea Salt, Blueberry, Peanut Butter, Mixed Berry — Gluten Free and No Added Sugar
Emergency food that's ready to eat anytime you need a snack or small meal
---
Amazon CLIF Energy Bars
16 Best Selling Protein Energy Bars
Variety Pack includes a variety of flavors like: Chocolate Chip, Chocolate Brownie, Crunchy Peanut butter, White Chocolate Macadamia Nut, and Cool Mint Chocolate
Shelf Stable Snack or Meal Replacement for emergencies
---
WHERE TO BUY SHELF STABLE DRINKS
You might need to stock your pantry with some non-perishable drinks and snacks in case of an emergency or lockdown. Here are some you can buy right now on Amazon.
Amazon Maple Hill Shelf Stable Milk
12 Cartons of Organic, Grass-Fed Whole Milk
Shelf Stable Milk requires no refrigeration
---
Amazon Shelf Stable Whole Milk Powder
1 lb Shelf Stable Dry Milk Powder for long term storage
Use for cooking, baking, cereal, coffee & tea
---
Amazon Shelf Stable Almond Milk
Twelve 32 oz cartons of Shelf Stable Almond Milk — Dairy Free
Shelf life up to 18 months; use within 7-10 days once open
---
Amazon V8 100% Vegetable Juice
24 Cans of Tomato Vegetable Juice
2 Full servings of vegetables and vitamins A and C in every can
---
SHELF STABLE FOOD AT VITACOST
Depending on the stores in your area, local grocery stores and big stores like Costco, Woodman's, and Kroger may have shelf-stable meals, snacks, and drinks available.
Vitacost Shelf Stable Meals, Pantry Stables, Snacks and Beverages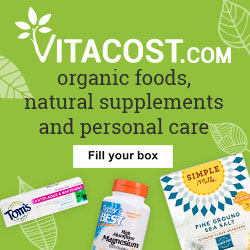 Another place we regularly order healthy shelf stable food is Vitacost.
They have a wide variety of non-perishable food items and most are still in stock. Like Amazon, the shipping is little slower due to the coronavirus right now, but it's another great resource for stocking your pantry with emergency food.
Healthy Pantry Food Available at Vitacost
SHELF STABLE WALMART FOOD
The non-perishable foods at Walmarts near me are pretty bare right now, but you can check online to see what's available near you before heading to the store.
Remember to take advantage of their popular curbside pickup option for fast shopping.
Check what's available of Walmart's:
Stock Your Pantry With Shelf Stable Meals
The best places we've found to order shelf stable food online are Amazon and Vitacost.
With lots of food in stock and delivery to your door, it's an easy way to keep your pantry stocked with shelf stable meals, snacks, and milk so no one goes through an emergency hungry.
Where to Buy Other Emergency Preparation Essentials